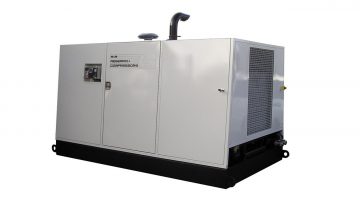 Utilizing the 350HP Caterpillar C9 this booster is one of our most popular. Able to take 2400cfm from 2 feed compressors and capable of 1200psi output depending on feed pressure. Ideal for RC Drilling and other application requiring high volume and pressure. This unit is available with or without sound proofing canopy.

Standard features
Canopy clad mounted to base assembly – fork lifted
On board fuel tank
Booster bypass manifold (Single Stage)
Two-way concentric valves
Automatic scrubber tank drain valve
Overspeed shutdown valve
Inlet particle filter
Water cooled booster block
Pre-cooler bypass system
Dual inlet suction manifold
Discharge temperature sensor
Pre-cooler (40°C) & suction scrubber tank
Aftercooler (100°C) max operating temperature
Low pressure switch at booster inlet
24 volt DC starting and operating system
Suction and discharge safety relief valves
Full function instrument panel monitoring all pressures, temperatures and controls with full protection shutdown and fault indicators.
Optional features
Choice of drive engine
Digital control panel (Booster)
Open frame configuration
Top Lift feature
Extreme cold weather start kit
Achievement of exit temperature bogies
Spark arrestor
Trailer mounted unit
Lights for night operation
Engine speed adjustment
Insulation package to canopy
Service packs 250/500/1000/2000 hours
Valve and piston kits
Other options, pressures, capacities:
available on request
Container and rig safe models as well as other options, capacities and pressures available – consult factory.
Technical Specifications
| | |
| --- | --- |
| Booster type | 6 cylinders, reciprocating |
| Configuration | COUPLED |
| Model | ARC 2410 6V92 C9 |
| Drive engine | CATERPILLAR C9 |
| Power | 350 bhp @ 1800 rpm |
| Booster stages | 1 |
| Max suction pressure (psi / bar) | 350 / 24 |
| Max discharge pressure (psi / bar) | 1000 / 69 |
| Capacity at maximum suction pressure (cfm / m3/min / I/sec) | 2400 / 68 / 1133 |
| Booster oil capacity (gal / I) | 5.3 / 20 |
| Engine oil capacity (gal / I) | 8.5 / 32 |
| Fuel tank capacity (gal / I) | 171.7 / 650 |
| Max operating ambient temp. (°F / °C) | 125 / 52 |
| Wet weight (lb / kg) - (approximate) | 10252 / 4650 |
| Overall dimensions, L x W x H (in / mm) | 9'10" x 6'11" x 7'6" / 3000 x 2100 x 2300 |
| Suction connection | 50mm ( 2") BSP |
| Discharge connection | 50mm ( 2") BSP |