CLS Product Range
| | |
| --- | --- |
| Compressor Type | Piston |
| Drive Engine | Cummins QSX-15 |
| Power | 600 hp @ 1800 rpm |
| Max suction pressure (psi / bar) | 350 / 24 |
| Max working discharge pressure (psi / bar) | 2500 / 173 |
| Engine oil capacity (gal / I) | 12 / 45 |
| Max operating ambient temp. (°F / °C) | 125 / 52 |
| Weight (lb / kg) | 37,800 / 17,146 |
| Overall dimensions, L x W x H (in / mm) | 19'10.5" x 8'6" x 9'6" / 6058 x 2591 x 2896 |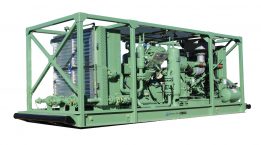 | | |
| --- | --- |
| Compressor Type | Piston |
| Drive Engine | Cummins QSX-15 |
| Power | 600 hp @ 1800 rpm |
| Max suction pressure (psi / bar) | 350 / 24 |
| Max working discharge pressure (psi / bar) | 2500 / 173 |
| Engine oil capacity (gal / I) | 12 / 45 |
| Max operating ambient temp. (°F / °C) | 125 / 52 |
| Weight (lb / kg) | 36,900 / 16,738 |
| Overall dimensions, L x W x H (in / mm) | 23'9.5" x 8'6" x 8'6" / 7252 x 2591 x 2591 |
| | |
| --- | --- |
| Compressor Type | Piston |
| Drive Engine | Cummins QSX-15 or CAT C18 |
| Power | 600 hp @ 1800 rpm |
| Max suction pressure (psi / bar) | 350 / 24 |
| Max discharge pressure (psi / bar) | 5546 / 382 |
| Engine oil capacity (gal / I) | 12 / 45 |
| Max operating ambient temp. (°F / °C) | 125 / 52 |
| Weight (lb / kg) | 40,000 / 18,144 |
| Overall dimensions, L x W x H (in / mm) | 19'10.5" x 8'6" x 9'6" / 6058 x 2591 x 2896 |
| | |
| --- | --- |
| Unit Type | Nitrogen Membrane |
| Power Source | Generator |
| Power | 125 KW |
| Max suction pressure (psi / bar) | 320 / 22 |
| Flow volume | 900-4000 scfm |
| Weight (lb / kg) | 29,000 / 13154.179 |
| Overall dimensions, L x W x H (in / mm) | 13' x 8' x 8' 6" / 3962 x 2438 x 2591 |
| | |
| --- | --- |
| Compressor Type | Rotary Screw |
| Drive Engine | Cummins QSX-15 |
| Power | 600 hp @ 1800 rpm |
| Max Flow volume | 1200 scfm |
| Max discharge pressure (psi / bar) | 350 / 24 |
| Compressor oil capacity (gal / I) | 42 / 159 |
| Engine oil capacity (gal / I) | 12 / 45 |
| Fuel tank capacity (gal / I) (optional) | 175 / 662 |
| Max operating ambient temp. | 125°F / 52°C |
| Wet weight (lb / kg) | 17,160 / 7,784 |
| Overall dimensions (L x W x H) | 4470 x 2286 x 2286 |
| | |
| --- | --- |
| Compressor Type | Rotary Screw |
| Drive Engine | GM LS3 V8 Petrol Engine |
| Power | 426 hp @ 5900 rpm |
| Max Flow volume | 600 - 400 acfm |
| Max discharge pressure (psi / bar) | 150 - 210 / 10.3 - 13.8 |
| Engine oil capacity (gal / I) | 1.5 / 5.7 |
| Fuel tank capacity (gal / I) | 70 / 265 |
| Weight (lb / kg) | |
| Overall dimensions, L x W x H (in / mm) | |
---
Compression Leasing Services and Air Research Compressors are Like-minded, Family Operated Companies with History.
For nearly 30 years, Compression Leasing Services, Inc. has been the premium provider of high-pressure air and gas booster compressors and associated services and parts. When CLS was founded in Casper, Wyoming in 1981 by Richard Gruner, the company's core business was centered on long-term rentals and financial leases of air and gas compression equipment. This equipment was used specifically in oil and gas production, exploration, and pipeline construction and testing, as well as mining and mineral exploration. Over the years, CLS's focus grew to include not only renting and leasing equipment, but also the design, manufacturing and sales of air and gas compressors. Through it all, Compression Leasing Services has maintained an unwavering commitment to excellent equipment, service and customer relations.
Compression Leasing Services is the world leader in high pressure compressor fabrication, sales, services and support. We manufacture equipment for applications both large and small, and we offer a variety of plans for rental, leasing or sales. Whatever your compression equipment needs, we look forward to meeting them!
Why Choose CLS?
At Compression Leasing Services, we offer only the best, from our professional staff to our state-of-the-art facility. Our in-house drafting department, engineering and auto cad design means in-house quality control. We can weld and fabricate almost anything, and we'll build your products correctly the first time. No matter what we've built, it will be ready to put in the field upon delivery.
Capabilities to build pressure vessels from 4 1/2" to 12' OD in lengths up to 30' and with up to 5000# PSIG working pressures
Full service state of the art fabrication shop with large overhead cranes
Certified to build ASME Section VIII Division 1 pressure vessels and perform alterations and repairs to the National Board Inspection Code
Valid "U", "UM", and "R" stamp holder
State of the art painting and coating services
Custom structural welding
Piping to ASME B31.3 and API 1104 Codes
Formal in-house quality control program
Structural and ASME Code welders qualified to our in-house quality control program, ASME Section IX, and NBIC
In-House nondestructive examination for magnetic particle examination, dye penetrant examination, hydro testing, and ultrasonic thickness testing. Third party inspection available for radiography, ultrasonic flaw detection, hardness testing, impact testing, and CWI inspection upon request
Welding procedures developed to meet ASME Section IX for SAW, MIG, SMAW, and v
Pickup and delivery and field inspections available.
Full machine shop services